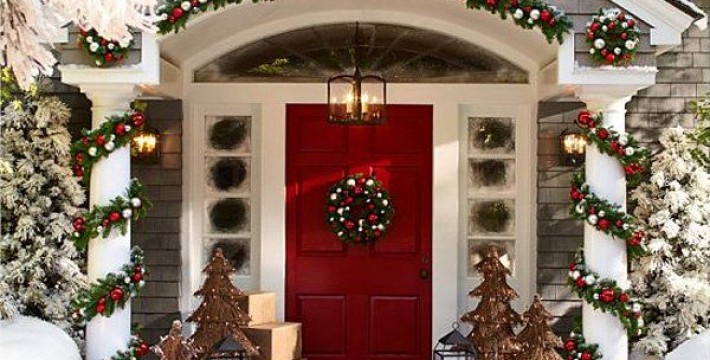 At this time of year, it would seem rude not to do a posting on how you can make your home grand, special and festive, so in this article we are going to look at the very ways you can do this. The jolly think about this is you can let your imagination run wild and if you have the time, the money, and the resources, you can create something which resembles a grotto or a scene out of land of Narnia!
Feature image from: http://blog.styleestate.com/christmas-decorating/2014/6/30/50-stunning-christmas-porch-ideas.html
Christmas tree – real or artificial?
This is often the first thing that people think about when it comes to decorations – after all, it is the most central point to all the decorations. Artificial trees are fine, and obviously more convenient for some people. However nothing resembles the site and smell of a real Christmas tree. Maybe it is down to the visual effect, but a greater sense of warmth and comfort seems to be attached to its presence.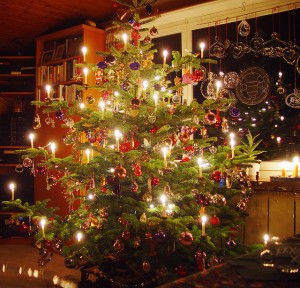 Image:https://www.flickr.com/photos/libaer2002/202771312/
Fireplaces and staircases are misunderstood.
These are perfect areas for decorations, and we have seen some really fabulous and elaborate designs over the years. By adding tinsel and lights the areas are showcased with extra attraction and appeal. Fireplaces and staircases often comprise of different or complicated shapes. Use this to your advantage. Weave the tinsel in and out of each stair spindle or drape your lights completely around your fireplace surround. Be imaginative and have fun.
Expand on the use of 'cold colours.'
Colours mean different thing to different people. Reds and yellows give indications of warmth, sun and summer. White, dark blues, purples all give the effect of cold and so thereby create a festive feel. Gold and silver create sparkle and glitz. When you are thinking about decorations colours are very important.
Bring the outdoors indoors.
In December the garden seems dead, but it is easy to forget the variety of Christmas foliage that is on offer. This can be used inside the house giving a natural presence to your Christmas look. Decorate your door with holly and ivy or alternatively make it into a wreath. Have some mistletoe hanging up in the living room for those cosy evenings. Poinsettias are typical and festive looking pot plants that normally require little work and are designed to last the festive period long.
Candles and lanterns.  
Whilst Christmas lights are most peoples choice, the dark nights are perfect for lighting candles, while fancy ones serve as decorations in their own right. You may even choose to go one step further and pick a candle which has a festive scent. After all you want the sight of your decorations to look good, so why not have the smell too?
As you imagine, we could be writing a post till Christmas 2016 about ways to deck your homes for the holidays. These are our best pick of some of the ways.
However you decide to decorate your home this Christmas, enjoy it, have fun, and why not go that extra step and make it one better than 2015?
Happy Christmas and a Prosperous 2016!