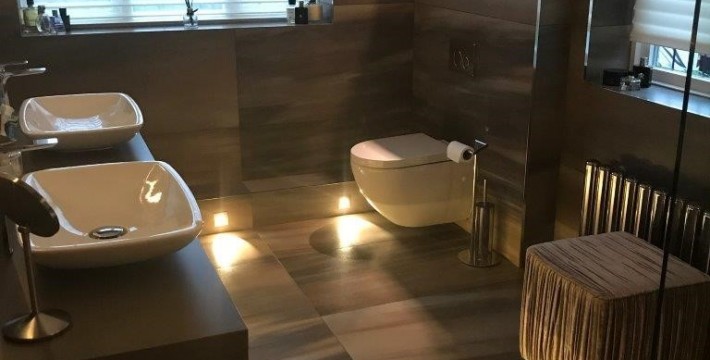 A bathroom has the potential to be a statement room – it's the place you start and end your day. You may also have a bathroom reserved solely for guests or a child's bedroom with their own facilities. Each needs its own special treatment to make sure it is beautiful and fit for purpose.
When we design a bathroom we look for opportunities to be different. We don't go for the conventional layout and our ability to source pieces that are not available on the high street (or online) sets us apart. More importantly, these details set your bathroom apart. Stunning Italian tiles crafted by Roberto Cavalli are one of our current favourites – look out for the signature on each one.
Lighting is key in a bathroom. We are huge fans of multi-mood lighting for the different requirements you might have throughout the day. You can flood the room with a 'daylight' effect for perfecting the practicalities where an eagle eye is essential – like make-up or cleaning – and then a moment later you can change it so the bathroom is atmospheric with recessed lighting, bathed in a candlelit effect. Its impressive.
So, what do we consider in our plans for your new bathroom? We work out what you have space to include, what you need, what you'd like, what style you prefer and, of course, your budget. We work with the finest manufacturers and craftsmen to ensure your bathroom is special, calming and finished to perfection.
We also consider the nitty gritty – other vital, practical elements that our clients usually don't have the time or inclination to get involved in. We make sure it's easy to clean and that water pressure is consistent and powerful and we take time to understand the layout of your home before we move or install bathrooms in a new part of it.
A luxurious bathroom will repay you many times over with pleasure and the knowledge that you have undoubtedly added value to your home.
Browse our latest bathroom and wet room designs.