The Home Office and Sitting Area
We converted the original Dining Room into a Sophisticated and welcoming Entrance Hallway with Stylish Home Office and Seating Area.  Our bespoke Joinery company manufactured the stunning Office Furniture to include a remote control Lift on the Home computer.  Our building company knocked through to create a large open plan space, we then installed Unique feature lighting in the flooring to highlight the New Quartz tiling to the Chimney breast with Contemporary Tunnel Gas Fire.  The design scheme included sumptuous soft furnishings, using velvet and crocodile leather.  The room is filled with stunning textures and is a delight to sit in the room whether for work or relaxation.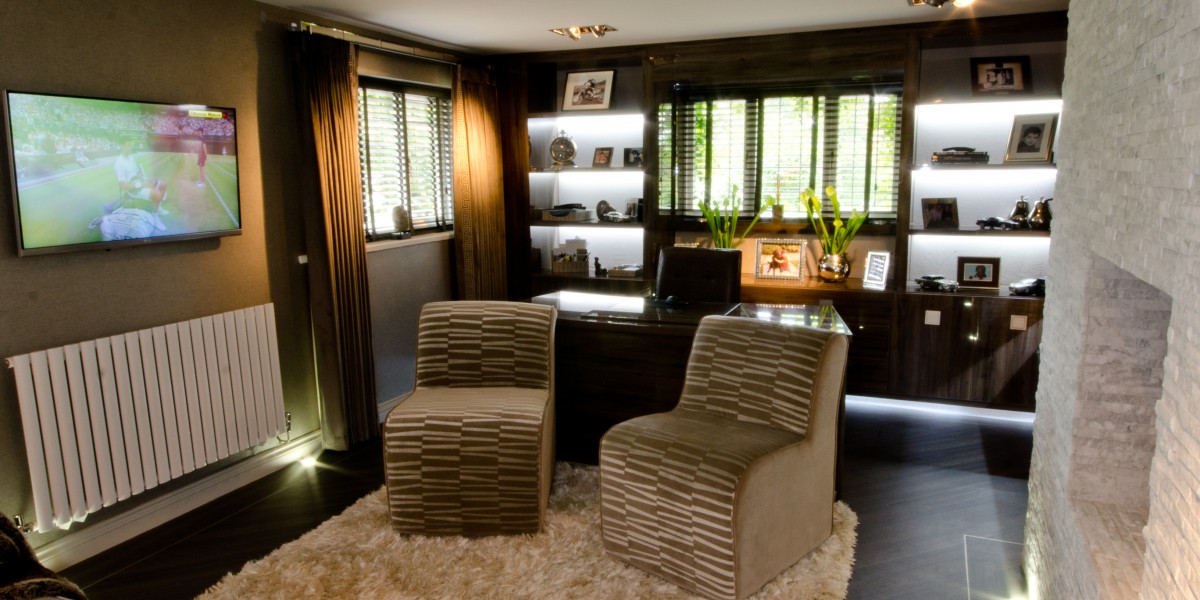 Our expert Upholstery company manufactured the Sofa and Armless chairs which were covered in sumptuous velvets in shades of mink and grey, to complement our decorative interior design scheme.
The Kitchen, Dining Area, Orangery and Bar
We were given an open plan, blank canvas and were asked to create an interior design scheme to provide a stylish entertainment area including Dining area, Bespoke Kitchen, Bar and Relaxation area within the Orangery.
Our bespoke kitchen designer on this project sourced the best local manufacturer and created a modern classic design using Pipi Oak and White Eggshell Units, which followed into the bar area off the Orangery. The lighting features to the kitchen and bar area enhance the room and can change from day to nighttime.
We manufactured smart and stylish soft furnishings and bespoke sofas and chairs to co ordinate with the Polished chrome occasional furniture and accessories we sourced from overseas.  The client also requested that we dress the room with finishing touches including indoor planting and decorative accessories.
The Garden Landscape Design
Our landscape designer worked alongside us on this project to create a smart topiary garden with expansive paved area to flow from inside to out using the same palette of colours. Our building company executed her design which completed at the same time as our refurbishment which was celebrated with a wonderful House Warming and Garden Party which we assisted in the arrangement of.
We purchased our house in 2010, an 1850 cottage mixed with a 1960's extension and knew we wanted to do some work on it but didn't know what to do. We met Simon through some friends and he came and had a look at the house and instantly 'got' our vision – even though I'm not sure I did myself ! – but that is where Simon and Jacqui's skill comes in. They listen to the client and instinctively understand what it is you are trying to achieve, and then turn that vision into reality. When we were presented with the mood boards that Simon prepares I just knew that the house was going to look fantastic, and it does. Everyone that comes to the house always asks who it was that did the design and I am always very pleased to be able to recommend Cream and Browne Lifestyle without hesitation.
Racheal Jessop